Eco-friendly Sustainable Beeswax Wrap for Sandwich
Our organic cotton fabric  is a natural, reusable food packaging storage product. The beeswax food packaging wrap is the perfect alternative to plastic packaging or traditional plastic wrap. The beeswax food packaging wrap can change shape with the object, forming a tight seal. With proper care, beeswax food packaging wrap can last for more than a year. These natural reusable will serve as a sustainable food packaging solution that naturally keeps food fresh.
Product Features:
Cotton fabric beeswax food packaging wrap is very suitable for bread, cheese, vegetables, fruits and other products.  
Breathable
Extending the shelf life of fresh fruits and vegetables while protecting them from bacteria, mold and other pests.  
Easy to clean
Using mild soap and cold water, gently hand wash beeswax food wrap . Hang to dry, fold and store in cool place.  
Reusable
Beeswax food packaging wraps are dense and remain so after multiple washings.  Simple maintenance can allow beeswax wrap to use for more than a year.  
Degradable
when you decide to replace it, our beeswax food wrap is 100% compost and biodegradable.  
Customizable
you can customize the size, pattern, different beeswax food wrap design according to your needs. 
Instruction
Use the warmth of your hands to form your beeswax food wrap around the top of a bowl or half a lemon.  The beeswax food wrap will retain its shape as it cools, creating a seal.  
Gently hand wash your package with cold water and mild soap.  Dry, fold and store.  
Keep your wraps away from heat sources such as hot water, dishwasher, microwave and oven.  Don't scrub your bag or use it to cut. 
Popular size
Assorted pack 3: S:18*20cm, M:25*28cm, L:33*36cm
Pack1: 25*28cm or 33*36cm
Pack 1 with button: 25*28cm
Round shape: Dia.15/20/25/30/40cm
Ingredients
– cotton cloth
– beeswax
– jojoba oil
– tree resin
OEM/ODM service offered
– customized design
– customized pattern
– customized size
– customized collections
– customized package
PRODUCT ADVANTAGES
Promote a new way of environmentally friendly living
01 NATURAL SUSTAINBALE INGREDIENTS
Cotton fabric beeswax food wraps are sustainable, biodegradable, natural alternative to plastic wrap for food storage.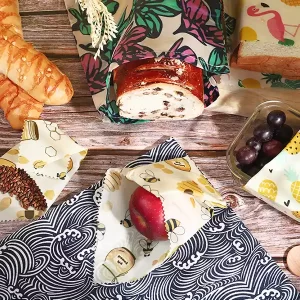 02 CLEAN AND HYGIENIC,EASY TO USE
By pressing with the palm of your hands, Cotton fabric beeswax food wrap can be naturally hold its shape when it cools, creating a seal.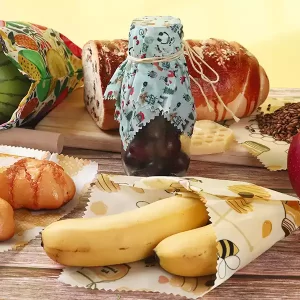 03 CAN BE WASHED AND REUSED
Gently hand wash your wrap with cool water and gentle soap.Hang to dry, fold and store in cool place.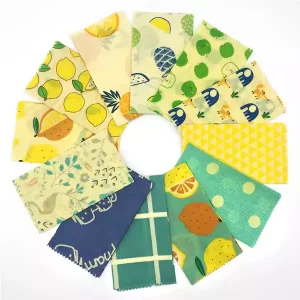 04 DOES NOT FADE
Digital printing and dyeing process,support custom design patterns.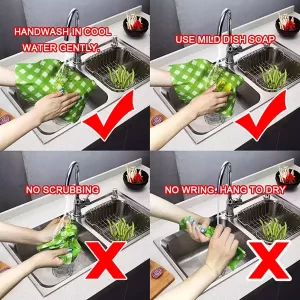 Products picture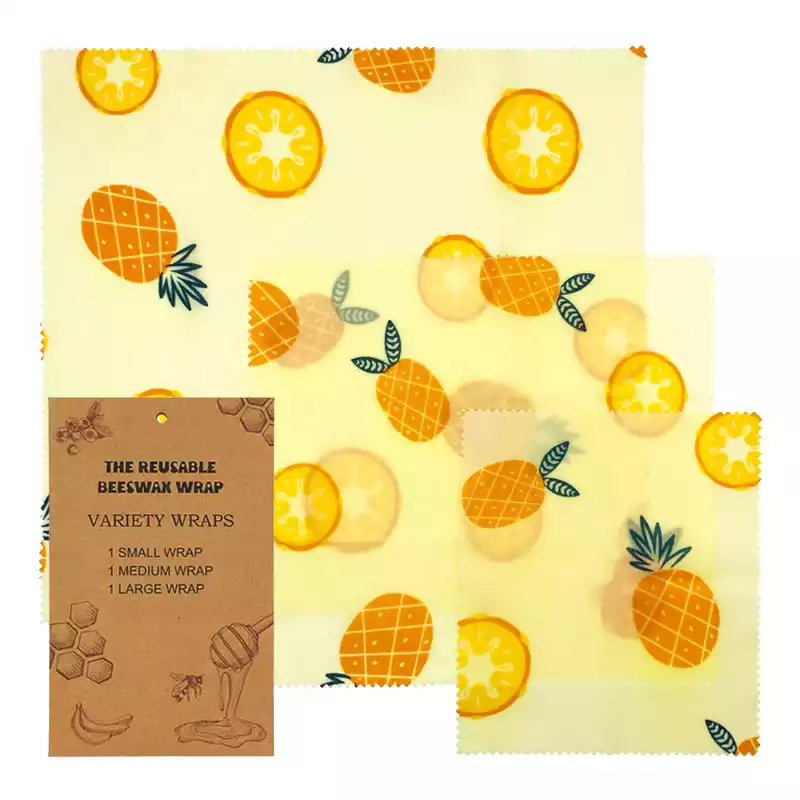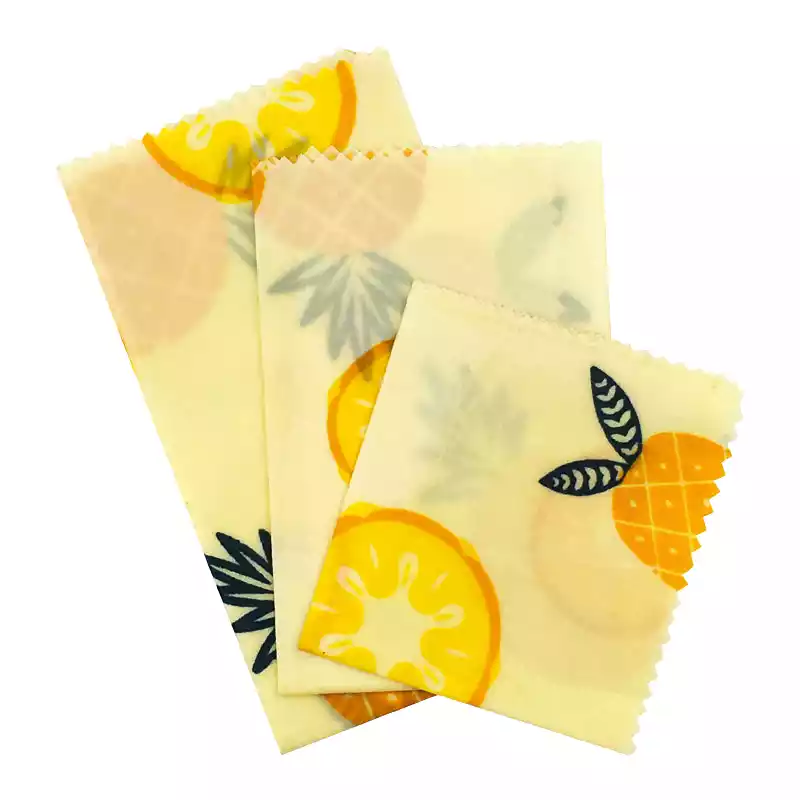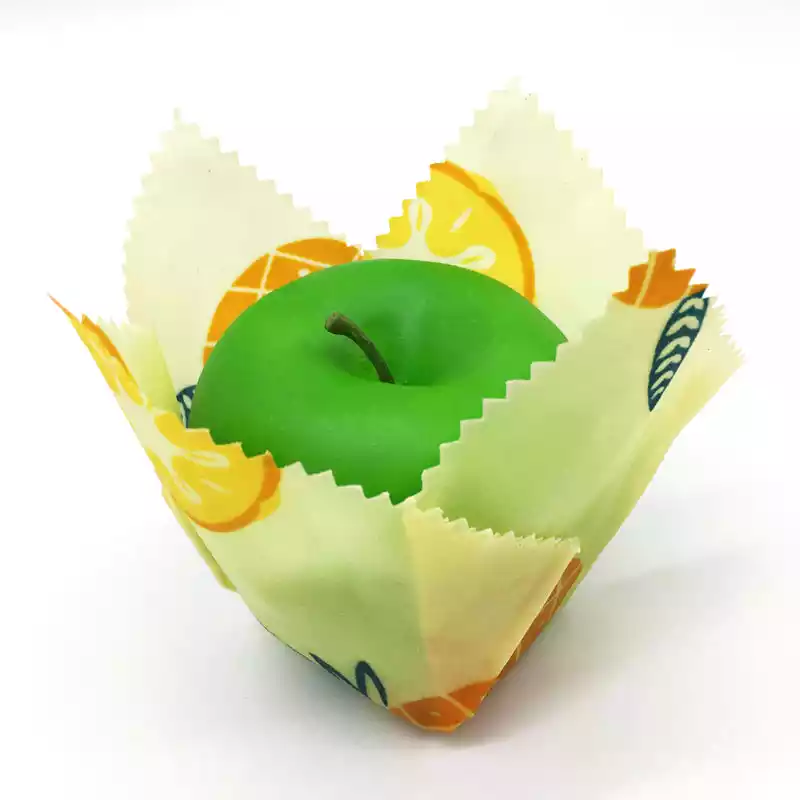 This is Eco-friendly Sustainable Beeswax Food Wrap, if you are looking for quality and reliable food packaging manufacturer, food packaging wholesaler, please Contact us and you will get exclusive customized service.