Beeswax Wrap Uses
Green beeswax food wrap roll is a natural alternative to plastic wrap. Cut to the size per your need and they are suitable for packing, storing and wrapping food or tableware.
Our beeswax wrap roll can last for up to one year with proper care. They shape objects and form a tight seal. Wrap bread, cheese, vegetables, fruit, or cover a bowl!
Beeswax Wrap Roll is made from cotton, beeswax, jojoba oil and tree resin. Use less plastic and protect the environment by using reusable and biodegradable eco-friendly materials. Keep your food fresh and the earth fresher!Get a quote about the Beeswax Wraps Wholesale.
Wholesale Beeswax Wraps Features:
1.Plastic free, eco-friendly: reduce plastic using this eco-friendly alternative to store fruits, vegetables, cheese, sandwiches and more. Wraps can also be used to cover bowls and dishes!
2.Naturally sticky: beeswax wraps are naturally sticky. Wrap and store using the warmth of your hands. Once the wrap cools, it will hold its shape and create a seal.
3.Biodegradable: use up to a year or approximately 100 times. Once it is at the end of its life, cut into small pieces and place into the compost.
4.Easy to use: use your hands to apply natural warmth and pressure to help soften the beeswax wrap. Mold the wrap over your fruits and vegetables or use it as a lid to cover a container. In a few seconds, the beeswax wrap will form a tight seal or hold around the item. This seal helps keep your food fresh for longer periods of time.
5.Sustainable, natural alternative, Washable, reusable.
Beeswax Roll Size:
Roll 33 x 100 cm or 43 x 100 cm (13″ x 39″ or 17″ x 39″): Cut to the size you need for half a lemon, onion, avocado, snacks, sandwiches, bread, cheese, cabbage, half of a watermelon, a bowl, etc. Extra large size allows you to wrap bigger size casserole dish.
Remark:
Beeswax Wraps Wholesale is available in custom sizes, patterns and wraps upon your request.
OEM/ODM service is offered for your option.
FAQ about Wholesale Beeswax Wraps
1.How do I clean wrap roll when it gets soiled or dirty?
Rinse and wash in cold water to remove excess food off of the beeswax wrap. If needed, you can apply a mild dish soap which will help the cleaning process. Once clean, allow to air dry and then allow to hang or fold to a compact size for future use.
2.How can I best care for beeswax food wraps?
Use cold water when rinsing and washing
If needed, apply a natural dish soap to clean
Keep away from hot water and/or any heat sources (oven, toaster, microwave, etc.)
Do not use to store raw meats
3. How can I store beeswax food wraps?
Bee Wrappy Food Storage
You can put up a string in your pantry and hang them over
You can fold them up when dry and place them back in the cardboard sleeve or in a cotton produce bag
You can roll them up and place them in a drawer
Store them with your other food storage containers for easy access.
Contact us to get more details aboutBeeswax Food Wrap Wholesale and beeswax wrap benefits.
4.How do you dispose of the beeswax wrap?
If you've reached the point where the beeswax wrap needs to be replaced. Take a pair of scissors and cut it into strips and then add it to your compost.
5.Can I use beeswax wraps to store hot food?
It is not recommended that you store hot foods in the beeswax wrap. We recommend that if you have a hot food inside of a storage container and you are planning to use your beeswax wrap as a lid. Place the hot food in a fridge or leave it out on the counter to cool down. Once the food has reached room temperature, you can place the beeswax wrap on top of the container to cover.
6.What type of food can't be stored in a beeswax wrap?
It is not recommended that you store or cover raw meat with the beeswax wrap.

Beeswax Wrap Roll Care Instructions:
1.Use cold water
Hand-wash your beeswax wrap in COLD water with mild dish soap, air dry, fold, and store.
2.Keep away from heat
Keep your beeswax wrap away from heat sources such as hot water, dishwashers, microwaves, and ovens.
3.What to use with
You can use your beeswax wrap for cold cuts, and cooked meat, however, it is not recommended to use with raw meats. Your beeswax wrap is great for half cut fruits and vegetables, cheese, sauce, leftovers, and is breathable enough to be used for rising dough.
4.Uses
On average, each sheet should last about 120 – 150 uses, depending on how regularly they are used. The wraps are made from 100% natural materials and are completely biodegradable and compostable so this is truly a zero waste food cover.
Greenbeeswrap is focusing on Beeswax Wrap Wholesale, if you are interested in our products, please feel free tocontact us.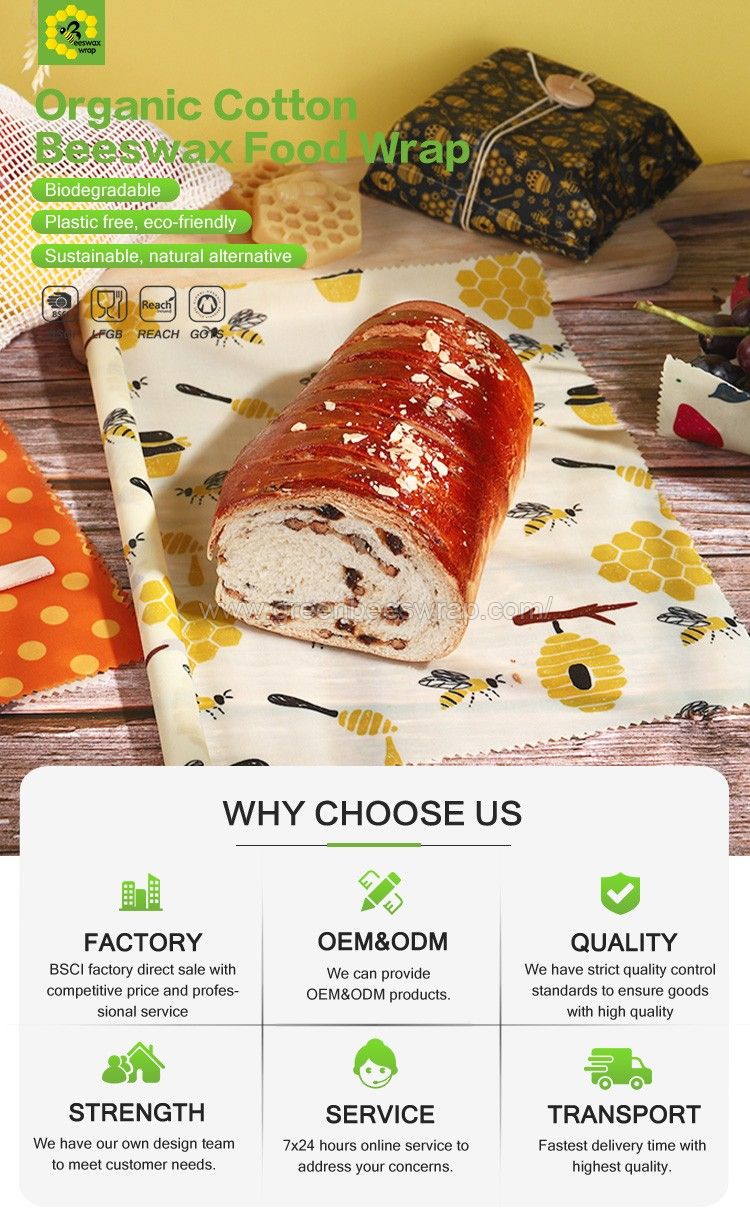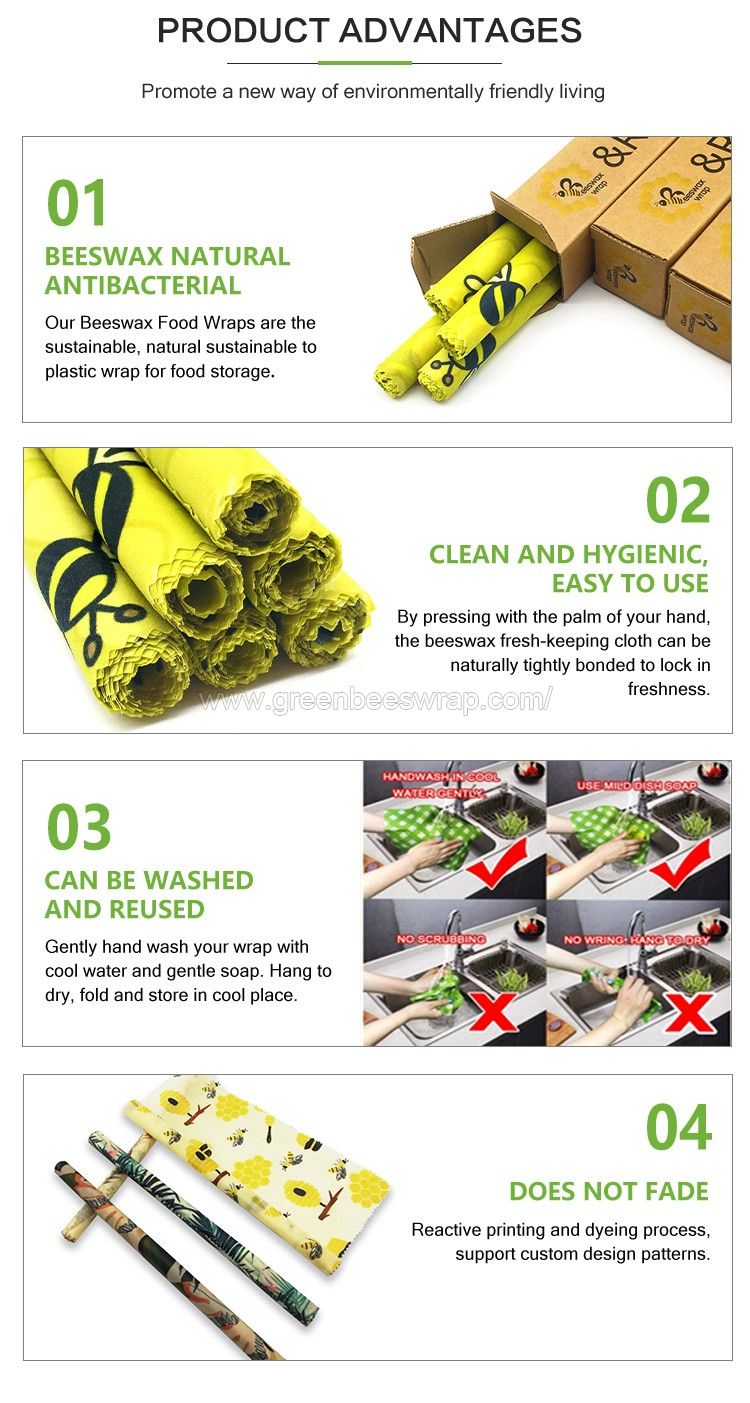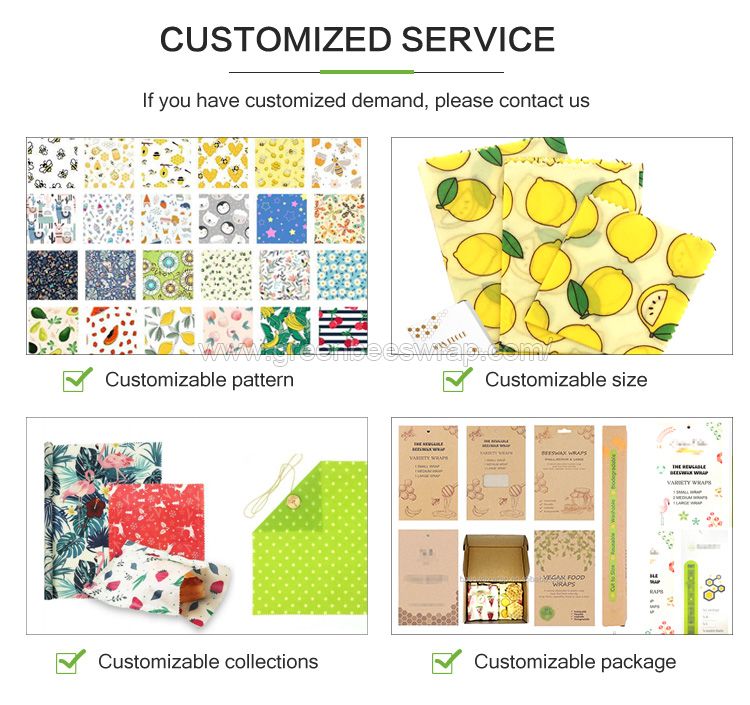 As aBeeswax Wraps Wholesale, we provide a service that is organic and eco-friendly.Just tell us your need.
This is Beeswax Food Wrap Roll, if you are looking for quality and reliable food packaging manufacturer, food packaging wholesaler, please Contact us and you will get exclusive customized service.