Parchment paper – what is it?
Just like regular paper, the main component of parchment paper is also cellulose. But the latter is passed through a special process that makes it non-stick and withstands high temperatures. 
The reason for not using regular paper in the oven is that it will burn once the temperature rises and might affect your baked items. However, you can use the same baking parchment paper with an air fryer appliance.
The air fryer parchment paper is food grade baking paper. It is grease proof / oil proof, water proof, anti stick and heat resistance to 230℃.
Those air fryer parchment paper can be used in a number of applications such as air fryer, frying pan, microwave, or oven. It is ideal for cake, bread, pizza, potato chips, fries, chicken wings, etc.
The Air fryer parchment paper can be customized with your own design printing and logo, gram weight and size per your need.

| | |
| --- | --- |
| specification | 40gsm or custom per need |
| size | 16cm+4.5cm, 20cm+4.5cm or custom per need |
| shape | Round or square |
| color | Brown/white or custom per need |
| material | Wood pulp |
| coating | Double sides silicon |
| application | Food wrap |
| usage | Cake,bread, pizza, potato chips, fries, chicken, etc. |
| features | Grease proof/oil proof, water proof, anti stick, heat resistance to 230℃ |
air fryer parchment paper: here's how to use it
In an air fryer, the hot air passes through the food, frying it without any oil or other fat substance. But there is one problem with food at a high temperature: It can stick to the air fryer's basket. 
To prevent any material from sticking to the air fryer, you can use parchment paper.
This means that you will not have to go through a difficult cleaning process by simply placing a piece of parchment paper between the air fry basket and the food.
Ensure that you are using enough paper to cover all the food material present in the air fryer. If the paper is short, some of the food material might directly contact the air fryer basket.
perforated air fryer parchment paper
You can buy parchment of different sizes and shapes at greenbeeswap.com to better adapt to the tray of the air fryer.
In addition, the holes allow air to circulate through the paper, and the food cooks better and crispier.
Just be sure to place food and weight on top of the perforated parchment paper to prevent it from moving with hot air passage and reaching the fan. If the air fryer fan becomes clogged, a fire can result.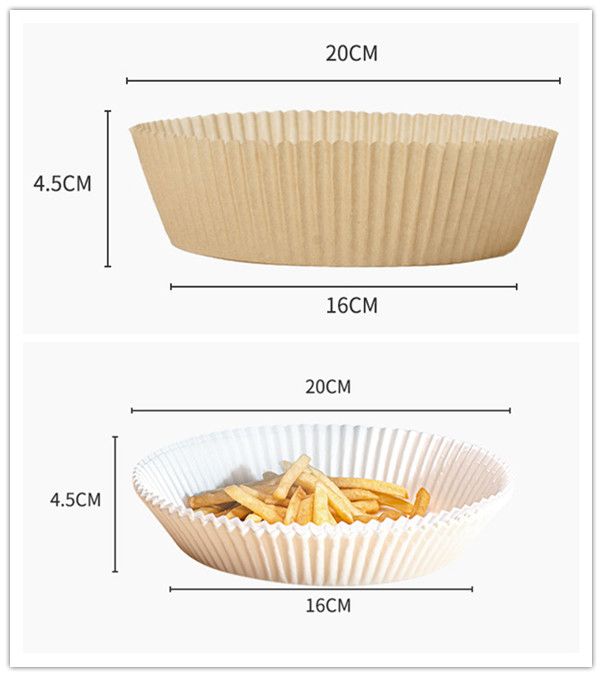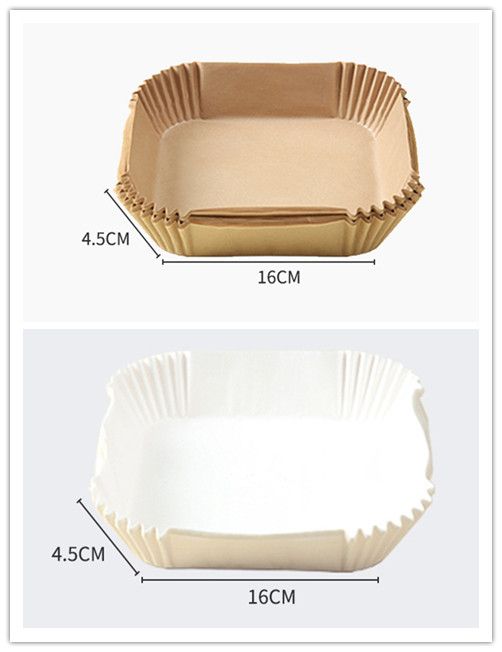 tips and tricks for using parchment paper in the air fryer
To enjoy a smooth experience using an air fryer, we have compiled a list of tips and tricks for efficiently using parchment paper.
maximum temperature:
Different brands of parchment paper have different maximum temperature limits. So it is important that before buying any parchment paper, read through the label to find out the maximum temperature. Most of air fryers can attain a maximum temperature of 400F (around 204 Celsius). So only select a suitable brand of paper that can withstand such high temperatures.
the correct type of paper:
Supermarkets and retail stores usually place similar items on the same shelf. And you might buy a different type of paper instead of parchment paper. 
Be careful when you buy parchment paper to not confuse it with the wax paper used for different purposes.
correct size
Before cutting down the paper, take a step back and measure the size of your basket. If you cut it too big, it would stuff the air fryer basket and block the airflow.
Generally, the size of parchment paper must be a little smaller than the size of the basket. This will ensure smooth airflow and a smooth frying experience.
correct timing
Some people place the parchment paper a little too early. Therefore, you do not need to use it during the pre-heat process.
Only use the paper when you are ready to place food material in the air fryer basket. Using it before placing any food on it can even become a fire hazard. In addition, since the air fryer uses hot air for frying purposes, the same hot air can also make the paper fly and touch the heating element.
general recommendation
As not all air fryers are the same, you should check the manual to make sure you can use the parchment paper in your model.

FAQ about Custom air fryer parchment paper
1. Can You Put Parchment Paper in an Air Fryer?
Yes, you can put parchment paper in an air fryer. Parchment paper is the most common type of air fryer liner and, if used properly, it is safe for use in an air fryer.
There are some important rules to understand when you use parchment paper as a liner for your air fryer, however:
Never put parchment paper in the air fryer by itself. It must always be weighed down by your food so that it doesn't blow around inside and get stuck in the heating element. This is extremely important as it can cause a fire if you're not careful. Always pre-heat your air fryer empty and only line your machine immediately before adding your food, ensuring the parchment paper is sufficiently weighted.
Always make sure your parchment paper is perforated to allow airflow during cooking. If there are no holes in your parchment, your food will not warm or cook properly. Airflow is key to using an air fryer.
Make sure your parchment paper is sized for your machine. It should line the bottom of your fryer well, but not stick up too much at the edges of the basket.
With all these rules in mind, it's easy to see why purchasing pre-perforated, properly sized and cut air fryer liners is the easiest course of action. However, it's not impossible to make liners at home using standard parchment paper.
2. some benefits of using parchment paper in the air fryer
Using parchment paper saves you time in the kitchen because it cleans the air fryer much easier and faster. 
With its use, you will only have to withdraw in parchment paper, and everything is ready. Even the basket of the air fryer!. 
Also, it prevents food from sticking to the tray, and that way, delicate foods, such as fish, don't break when you try to get them out of the tray.

This is Air fryer parchment paper, if you are looking for quality and reliable food packaging manufacturer, food packaging wholesaler, please Contact us and you will get exclusive customized service.