Our Beeswax Packaging is an excellent reusable plastic-free plastic wrap, and they have many different uses!Cover your food, wrap the sandwiches in style, use them to help when baking, fold and shape them into small bags, and many more! Below are some of the creative ones we have listed Smart usage.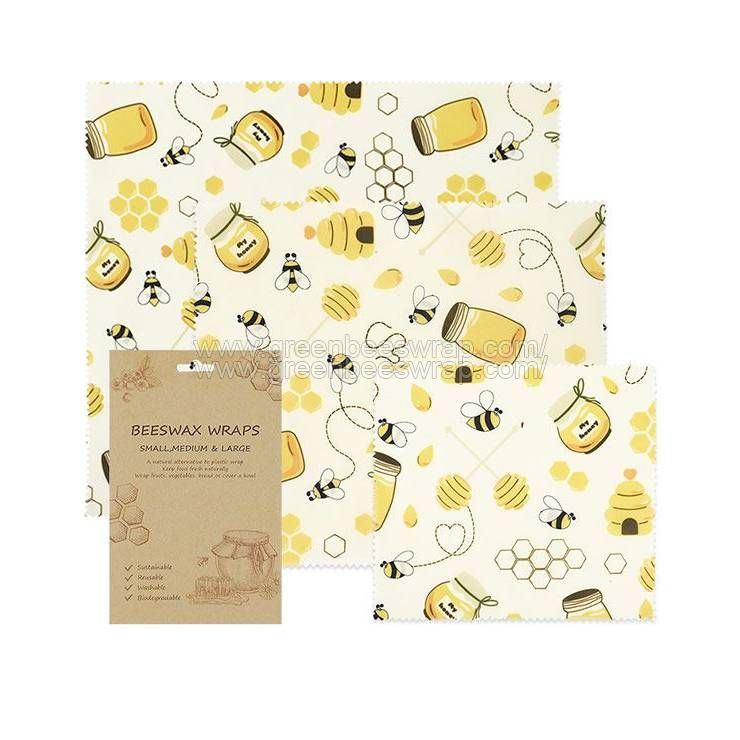 Beeswax Wrapping Paper
1.Keep food fresh
We are all working hard to reduce unnecessary waste, which is why it is important to keep food fresh for as long as possible. When you buy green leafy vegetables, crunchy vegetables and soft bread, wrap them in beeswax, which can keep food fresh for twice as long! This is a good way to reduce food waste and enjoy fresh food longer.
2. Make a squeeze bag
If you are an avid baker like me, then this is a real game changer! Instead of using disposable plastic piping bags, just roll up a larger beeswax package, at the end of the nozzle and work you The magic! The best part is that you can clean and use your plastic wrap for completely different things!
3. Cap bottle
No lid? No problem! Whether it's an empty glass bottle, you want to reuse homemade sour sauce or overnight oats, or an open bottle of wine, wrap your glass bottles and jars with beeswax to keep the contents inside. fresh.
4. Make a small bag
The perfect snack to store the food you want to keep fresh, and for your zero waste shopping trip. Once we collect the necessities in the locker with our popcorn in the "zero waste" store, we fill it with homemade popcorn and can watch a movie at home in the evening!
5. Roll out and store dough
Use our extra-large packaging as a base to roll out the pastry and baking dough. Not only can it prevent the dough from sticking to your kitchen counter, but it makes it easier to put your pastry in a pie without splitting!
If you have leftover dough, you can easily cover it with plastic wrap to keep it fresh and save it for later.
6. Gift packaging
If you want to have a more environmentally friendly Christmas, why not replace the wrapping paper with beeswax packaging? Perfect for packaging homemade baskets, food gifts, soap bars and more! What are the benefits of using Beeswax Wrapping Paper? Fortunately Recipients can reuse plastic wrap to keep food fresh.
7. In the bathroom
Beeswax packaging is not just for use in the kitchen. When we go out, we always use them to pack toothbrush heads to keep them clean, or to cover our solid shampoos and soaps. Just make sure they stay away from the hot water in the shower, they can be reused for many future trips!
If you have any other clever and creative uses for our packaging, or if you want to buy our products, please feel free to contact our Beeswax Packaging Supplier
This is Smart Ideas For Using Packaging, if you are looking for quality and reliable food packaging manufacturer, food packaging wholesaler, please Contact us and you will get exclusive customized service.