Beeswax packaging  is becoming a popular alternative to plastic, so the question arises – how do we know they are safe to use for food? It's not an easy question to answer, but here's what we found after doing some research.
Legal approval
Beeswax is an additive approved for use in food in the EU and it has an e number – E901. If you refer to the EU list of food additives, it states that E901 is allowed in certain foods, which means you can add as much as you need. Therefore, you can see from this that beeswax is permitted in food and therefore does not pose a risk of contamination.
Sources
To understand whether it is safe to consume large quantities of beeswax, you need to understand what it is. Beeswax is a material secreted by bees which they use to create the hexagonal structures in their hives. The honeycomb is the hexagonal structure of the beeswax, while the honey is sold as food. In theory, you can consume large quantities without any negative effects.
Allergens
Beeswax is considered an allergen in some countries and therefore the fact that a product contains beeswax needs to be clearly labelled as such, which in most cases is the case.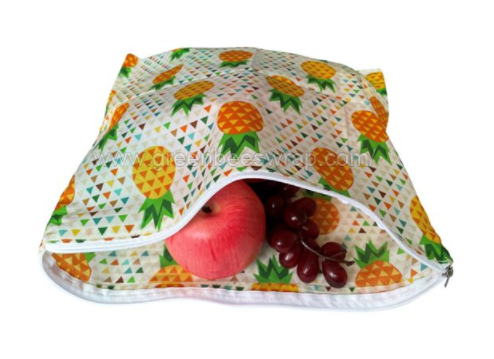 So, you can now say that there is no risk of contaminating food even with large quantities of beeswax. As long as hot water is used to extract the beeswax from the hive, there should not be any problems. However, beeswax is not the main ingredient in beeswax wraps. Often, other ingredients such as oils, resins and inks may also be used.
This is where you may have a problem. The oils, resins and inks used need to be safe for use on food. And the materials must also be safe. Many manufacturers of beeswax packaging use printing materials that are not designed for food contact and we strongly suspect that the printing chemicals used on the materials are not safe for food either.
We recommend that migration testing of inks on materials, oils and resins is required to show that the chemicals will not migrate from the packaging to the food under typical conditions of use. In addition, you need to consider the material itself and whether it will cause problems if it comes into contact with food.
You need to be concerned about keeping cling film clean. They can be cleaned with cool water and detergent. However, we recommend that some work, such as removing dust from the surface, is required to prove that this keeps them clean enough.
If you would like to be involved in the production of beeswax wraps, or to purchase some beeswax wrappers, please contact me directly, info@greenbeeswrap.com. If you have any suggestions, please feel free to leave a comment.
This is How Do We Know That Beeswax Is Safe for Food?, if you are looking for quality and reliable food packaging manufacturer, food packaging wholesaler, please Contact us and you will get exclusive customized service.