Plastic film was introduced in the 1950s and quickly conquered homes around the world. But the white pollution it caused gradually took its toll on the planet. Why use beeswax food packaging, a new eco-friendly food packaging product, instead of your plastic film? We present you with a short guide.
Benefits of Beeswax Food Packaging
1.Sustainable food storage
The overriding principle of Beeswax Food Wrap is to be part of a zero-waste approach by minimizing the amount of packaging, especially plastic, thrown into the trash. beeswax wrap is an eco-friendly food wrap that contains 0% plastic. It is an all-natural wrap. Made from organic cotton, beeswax, sunflower seed oil and needle resin. It does not require the use of chemical processes or hidden plastics.
2.Aesthetic food storage
What if colors and beautiful patterns would brighten up our daily lives in our refrigerators and kitchens? In any case, you can safely choose bee wrap with modern and colorful patterns instead of clear foil.  Lunch boxes wrapped in your favorite beeswax food wrappers will be the envy of your co-workers, and your kids will find it more fun to handle! Fun bee wraps are also useful in making it easier to differentiate the food in your fridge.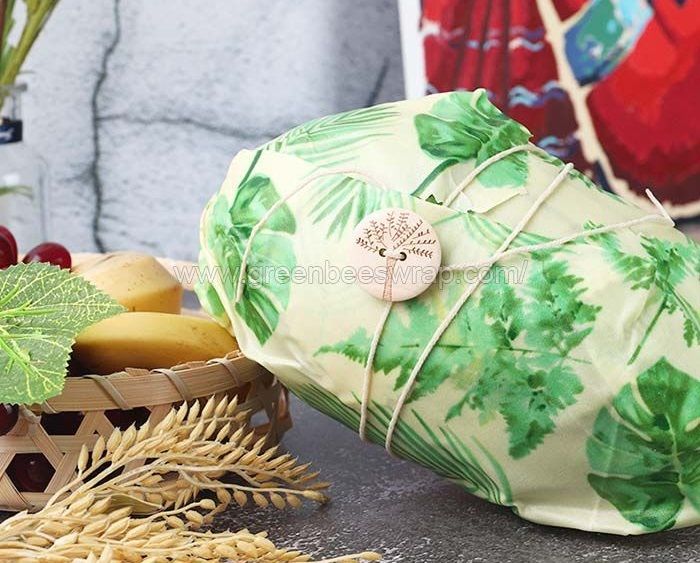 3.Environmentally friendly and reusable
Using beeswax food packaging is a step forward compared to using plastic film. Bee wrap has the advantage of being reusable. It can be washed in cold water and can be reused up to about 100 times.
Did you also know that we produce Bee Wrap food wrappers that are coated according to a very precise recipe to ensure optimum efficiency? Buying Bee Wrap instead of making your own will save you time and keep it longer.
4.Better protection for your food
To protect your food, Bee Wrap is specially formulated to strike the right balance between beeswax, sunflower oil and needle resin. In addition, beeswax has antibacterial properties that can preserve food better than a simple piece of cotton. Beeswax food wrap is the next generation of food storage. Ready to use, simple and efficient, it meets all standards and can be easily adopted throughout the home. No unnecessary ingredients, no addictions. A healthy and sustainable product that fights plastic wrap.
5.Easy-to-use wrappers
We all know that plastic film sticks to itself but not to the plate. With beeswax food wraps, covering your food and plates is like child's play. Simply crumple it up 3 times, place the waxed wrapper on your plate or food and press it down with your hand for a few seconds. Your food is preserved intact!
All your food will be well protected thanks to this sustainable and adaptable food wrap available in a variety of sizes.
Green Wrap is specialized in producing food package for many years, if you want to get more details, please feel free to contact us.

This is Why You Prefer Beeswax Food Packaging to Plastic Film, if you are looking for quality and reliable food packaging manufacturer, food packaging wholesaler, please Contact us and you will get exclusive customized service.