In addition to the daunting task of choosing between all the beautiful designs, you also need to determine the size, quantity and functionality of the packaging you want. As you read through our guide, please consider the wrap or foil you use most often every day.
Although they look similar, there are some variations in the available package sizes, as well as options for smaller or larger package sizes that can meet your family's needs. Let's take a look at your possibilities of beeswax wrap .
Various package sizes to meet most kitchen needs
Packages that include several different sizes of wraps are perhaps the most useful for family dwellers and single people. Anyone living alone will be familiar with a refrigerator full of half-cut vegetables or bowls of leftovers, so having a variety of sizes on hand will be appreciated, and larger families may pack even more food!
Regardless of the size of your family, choose the amount you think you'll need, keeping in mind that more is better than less and will ensure that you don't end up back on the wrap. Packages usually contain 3-6 or up to 10 packs, so you may even need to put several pairs into the basket for safety.
Beeswax wrapped rolls can be cut to size
In fact, a new, very clever wax film wrap can model itself on a standard cling film roll and can be used in exactly the same way.
These rolls are typically supplied with one meter (typically measuring 33x100cm) of wax film, which can be cut to any size you like, based on your covering requirements and giving you a higher yield. Each cut you make is obviously still reusable, just make sure you cut it wisely!
Packages with buttons or closures are useful when traveling
When you heat the wax component of beeswax packaging by hand, you can make one side of the material stick to the other. However, for carry-on sandwiches and snacks, you may prefer something with extra security to ensure your sauce sandwich doesn't mangle at the bottom of the bag.
If so, you can look for products that include buttons and wire snaps that wrap the wax film into a small envelope to keep the item airtight. Check out our beeswax food bags here.
Vegans may choose to wrap in vegetable wax
Reusable food wrappers are usually made of cotton, oil (such as jojoba oil), resin and beeswax. However, if you are vegan or do not wish to use your products with beeswax, you will be happy to know that there are still earth-friendly food wrapping options available.
Often, the wax will be replaced by vegetable waxes like petit wax, Brazilian palm or soy, which most users say are as effective as wax and do not require any other special handling or treatment. Simply look for products that are listed as vegan when searching.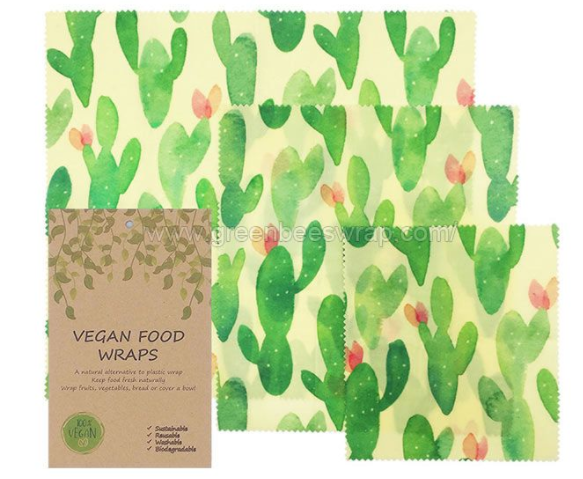 Choose a design you like, or brighten up the kids' lunches
Another reason to switch to beeswax wrap instead of boring old cling wrap is that you can choose any design you like! There are literally hundreds of colorful and wacky patterns and prints on the market, so if you're buying for kids, choosing your favorite animal print or color theme can be fun and can make the healthy foods and snacks in the boxed lunches more appealing.
If you prefer something a little less appealing, you can also choose packaging with simple or simple patterns.
So what are you waiting for? Contact us now for a quote!
This is Possibilities of Using Beeswax Wrapping Paper, if you are looking for quality and reliable food packaging manufacturer, food packaging wholesaler, please Contact us and you will get exclusive customized service.